Regulatory Due Diligence in Pharmaceutical Industry
A comprehensive examination by due diligence in pharmaceutical industry for a company and its financial records is part of the first phase of its purchase or stake purchase. This happens in many ways. Since many years, Knors Pharma Solutions has served 1500+ successful organizations with its due diligence tasks. We have performed for small scale to large scale pharmaceutical companies and drawn the expertise to depict the ability of the organization with our team of expert's consultants which are involved in a great research and development in health care since ages.
Our movements keep various platforms of due diligence such as science and technology, intellectual property, clinical development, and regulatory due diligence reports for majorly pharmaceutical industries and development. They also comprise manufacturing and various medical commercial fields. We deploy our superior teams for technical assembling due diligence methods which are highly disciplined and carrying the great experience of ages to fulfill all the requirements of the company and also prepare the satisfactory report.
Advantages of Getting Our Services | Regulatory Affairs Due Diligence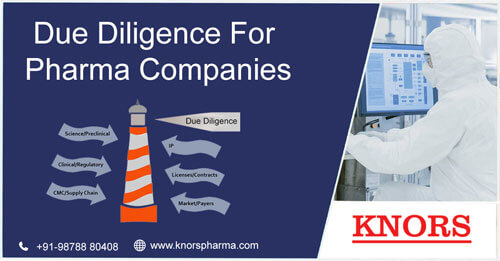 Our teams of experts perform with the great focus and review the entire structure of the company after that prepare the data which is easily understandable for the concern person.
Get the benefits of free DD light assessment to notice if there is any Red flag areas.
Arrangement of professional teams to fulfill your requirements and to understand your each and every need.
Primary and secondary research is the major part of our task.
Quick identification of risk factors along with opportunities with our methods, advanced methods of risk assessments.
The entire process (regulatory affairs due diligence) is easily modified and materialized so that our clients can understand it in a quick way and get the noticeable output.
Various options for productive suggestions showcase the higher and lower average risk along with that we also provide comparison with various industries so that one can get the actual position.
Performing the internal DD exercises is the prime task of our organization to prepare the various ventures reports.
Why Choose Knors Pharma Solutions for Regulatory Due Diligence in Pharmaceutical Industry
Knors Pharma Solutions has been performing due diligence service in very outstanding and remarkable way across the globe as various international companies are also getting services from us.
We are renowned for raising the exact report of risk factors and benefits. We perform on various methods.
The keen focus of regulatory due diligence in pharmaceutical industry is the part of our performance as we believe in molecular targets and work according to that.
The team of professionals works in a scientific way.
We provide preclinical data.
Customers get idea about CMC issues.
Competitive landscapes and market opportunities to aware the companies for their further performance.